Your Local Experts
Our local knowledge of the Lake Champlain Islands has set us apart as The Lakeshore Experts since 1994. Our niche marketing of Lake Champlain lakefront properties ensure that the right buyers are viewing your home. Our success is proven in the numbers. We have dominated the Grand Isle County real estate market with 28% market share and 43% of our 2020 sales were lakefront homes.
Proven. Powerful. Personal.
We offer one of the most powerful and comprehensive marketing programs for attracting buyers and getting homes sold. In addition to our industry-leading online strategy, we use a proven combination of traditional and cutting-edge digital methods to showcase your property.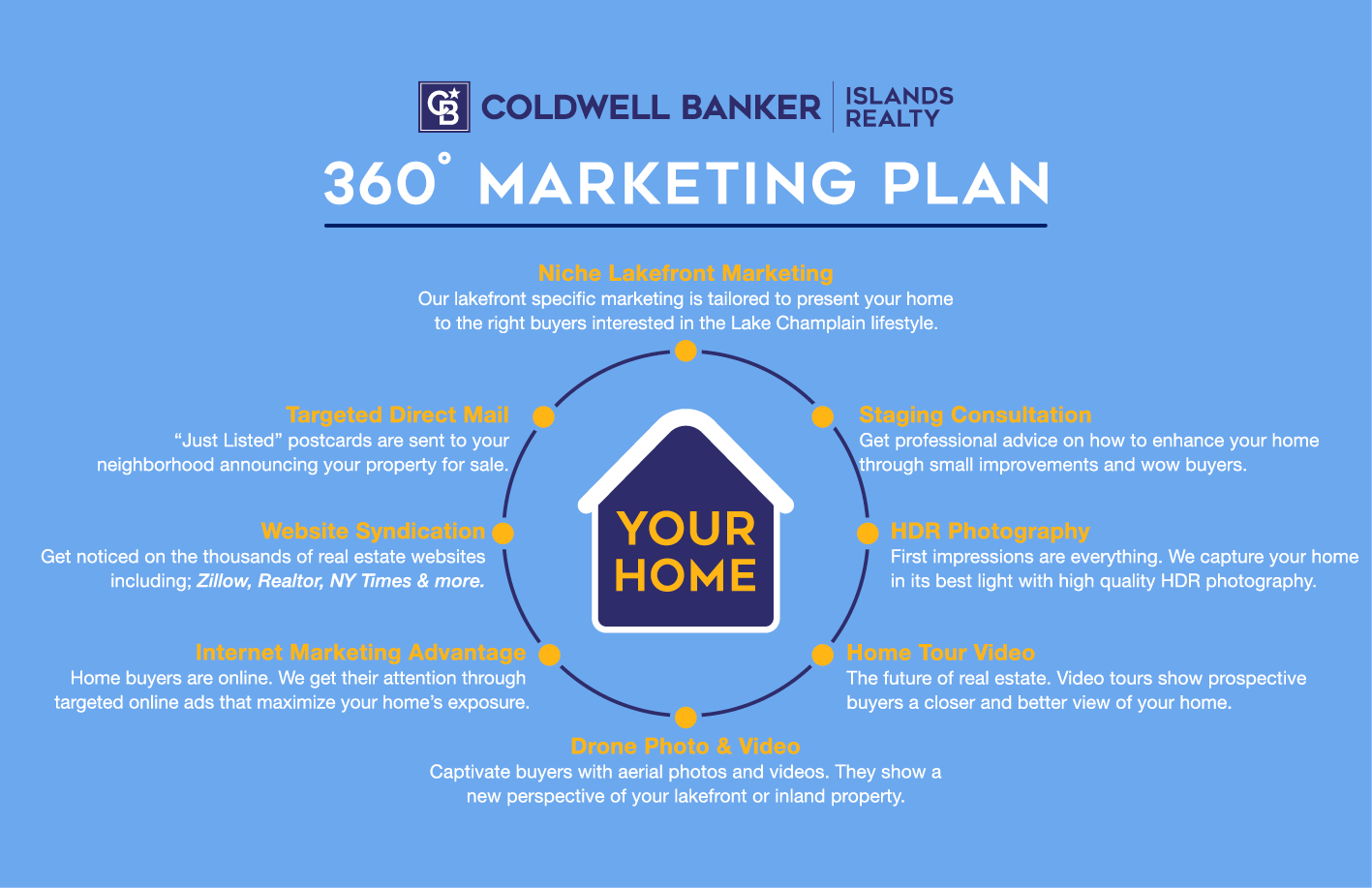 Our marketing is tailored to fit your specific property and our services are always evolving to fit current trends. Here are just some of our current services:
Targeted Online Advertising: social media and paid search
Targeted "Just Listed" direct mail campaign to your area
Website syndication to hundreds of real estate sites (Realtor.com, NYT, WSJ and more)
Just listed email blast to local Realtor network
Targeted emails to clients whose search criteria fits
New Listing notifications to thousands of registered users on our website LakeChamplainRealEstate.com
Free staging consultation
Bi-weekly advertising in the Islander
Other print opportunities: Burlington Freepress, Seven Days, St. Albans Messenger and more
Custom property flyers
National brand advertising
Yard signs
MLS Entry
Other opportunities available
Global Reach
While our roots are local, our reach is global. Through non-stop innovation and forward thinking, the Coldwell Banker brand has grown to become one of the most well-known and trusted names in real estate around the globe. Our Realtor network is vast with over 94k agents worldwide. No matter where a home buyer is searching, we are there to guide them.
Ready to Make a Move?
Our Realtors are here to guide you through the selling process. If you're interested in learning more about how we market your home and other opportunities please contact us for a personal real estate consultation.